The South African Savanna has proven itself to be a hardy profitable breed. It is very rare in the United States and we are committed to protecting and upgrading its genetics, while keeping the unique features of the Lubbe Cilliers Savanna. All of our Savannas are DNA qualified. Here is a link to the GR article about the JCS original import.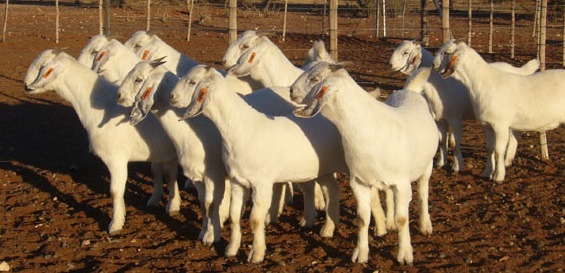 Jurgen Schulz imported the first and only Savannas directly to the USA from South Africa. These were direct purchases at DSU Cilliers farm. These Savannas were part of the famous CODI/PCI Boer goat import. The Boers were sold by Jurgen in 1996. Schulz (JCS) kept and bred the Savannas for two years before selling them in 1998 at his Kifaru dispersion sale. Keri-rose Consulting Inc. and Denise Peterson withDNAfrica imported frozen embryos in 2000/2001. Since then, an import ban has been in place, thus preventing anymore direct South African imports. Ken Mincey (MGF) imported live Savannas from Australia in 2003. The limited genetics of the Savanna create a challenge to the breeder.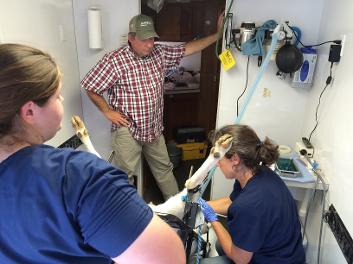 "Creating Modern Antiques"
We at Sleepy Hollow Farm, have traveled to acquire distinct original bloodlines from the four importsto introduce into our breeding program. We have been performing an AI (Artificial Insemination) and Embryo transplants using the semen from original import progeny. We hope to be able to offer breeders original genetics for their program.
T
hese will all be DNA parentage verified progeny. Pictured left is our doe Penny during a flush.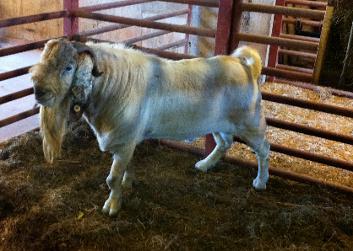 HV INTERNATIONAL E 525

This sire was born in Australia and direct import by Ken Mincey (MGF) to his Georgia farm.

525 is the sire of MGF A102, "Dollar". MGF A102 "Dollar" was chosen by Dawn Mincey for her friend, Eddie Markham, during the initial sale in Georgia. This is when we became Eddie's stalkers, LOL.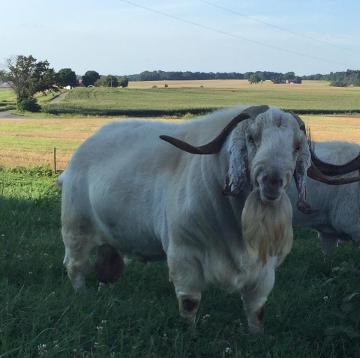 MGF A102 "Dollar"
He was progeny of the original import, HV E 525. "Dollar", pictured left, has provided genetic diversity. He was selected for our breeding program in 2012 and 2013 due to tank/train conformation and finemuscling. Eddie Markham gave him the nickname "Dollar" due to his high cost. Peg Merriman became his new owner in the summer of 2016. Congrats !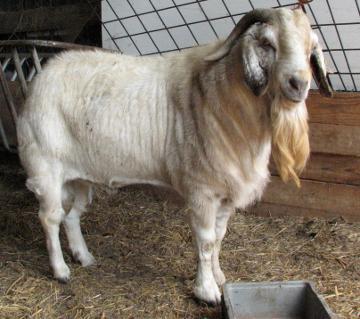 #122 "Iron Man"
This herdsire's progeny was selected for our program due to his superior size and pedigree. His sire was "Goliath" (KRI 522) and his dam DF 518 Rising Sun Ranch 101, from Dawn (Stiegler) Mincey's personal program. He has a direct pedigree to the JCS import and KRI's imported embryo project. He has great "form" and proven function.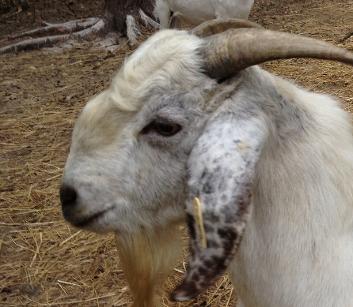 NJW White 94 "Braddock"
This buck
courtesy of Jerry Webb of Ivor, Virginia. Jerry purchased Savannas from Bill Ryals who was an original purchaser at the Jurgen Schulz Kifaru sale in Lampasas, Texas in 1998. Jerry was one the first breeders of the Savanna goat in the United States and helped develop the foundation stock that we all have today. Braddock was used to create one of our
distinct bloodlines to help our customers diversify their savanna genetics.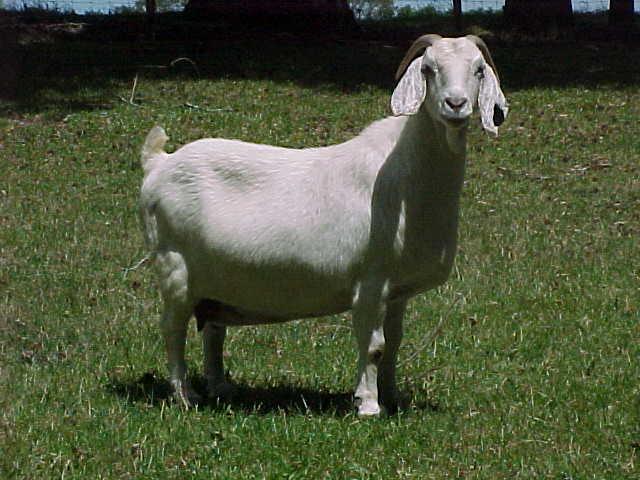 JCS 8 (Cillier 64)

This doe was born in South Africa. JCS 8 (pictured left) was a direct import by Jurgen Schulz to the USA. This was the foundation doe that Jerry Webb used build the NJW herd. Jerry collaborated with Bill Ryals and the Wilson brothers (SP75) to share original savanna bucks for their ET projects. Jerry then closed his herd and thus NJW became a distinct blood line. NJW's Green 36, 42, 44, and Orange 16 were Jerry's favorites.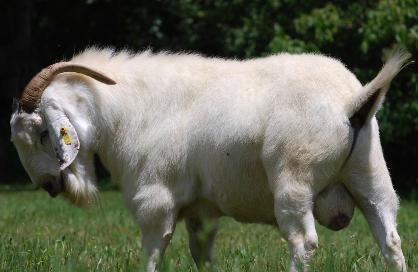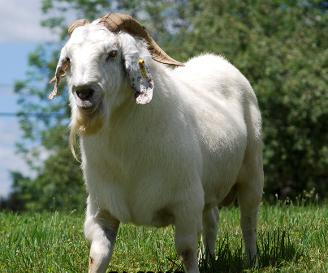 PJT Little Georgie
We first put Little Georgie kids on the ground here at Sleepy Hollow Farm in 2013. This well traveled Herdsire was bred by Paul Traubher in Tennessee. He was studied at North Carolina's AT&T University's goat program under Dr. Niki Whitley. Then off to Cherrie Hall and now back home with Ann Crouch (Paul's sister) at PT Savanna Ranch. Our partnership with Ann using this great buck in our genetics program has once again delivered high quality to the industry. His Tank conformation has been adding muscle to his offspring. He is a genetic goldmine tracing to JCS 16, JCS 17 and 506 "Scandia" all imported from South Africa.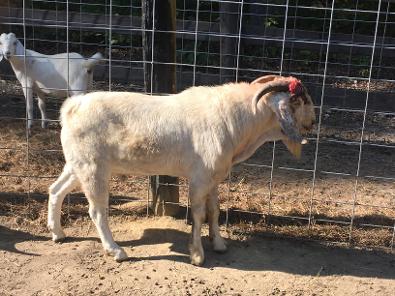 NJW white 120 "Damascus"
This 11 month old buckling is being groomed to continue Sleepy Hollow's NJW line. Mowed into the buck pen, he immediately challenged the top buck. We like his enthusiasm as well as his comformation. He traces to JCS 8 via his grand dam. NJW Green 44 was his dam's sire. The NJW line is known for its black pigment, and parasite resilience. Jerry Webb retired from Savannas in the fall of 2016, and passed away in the spring of 2017. We were fortunate to have had him as a mentor and a friend; we will miss him.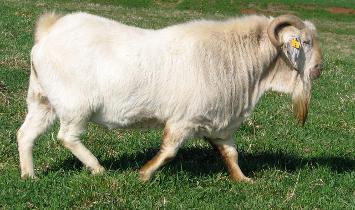 4C W1118 "Big 2" PI# 14175
This herdsire is part of Sleepy Hollow's foundation stock. His sire was NJW Green 42 and dam was SP 75 1075. Eddie Markham at Gold City Savannas gave him the nickname "Big 2". *note: Dale had two bucks named 4C W1118. This can cause confusion when examining pedigrees - use PI #'s.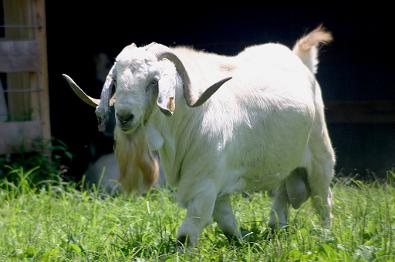 #163 "Catapult"
a full blood son of MGF A102 "Dollar". His Dam is 4C X409; a doe that was created from a flush of doe WW D01 (Out of JCS 16 and JCS 22 both born in South Africa). Purchasing offspring from Catapult's blood line will help diversify the genetics of your Savanna herd. Catapult has produced very nice kids with excellent conformation for several years and has become one of our elite herdsires. He has been selected for the live cover portion of the Oct 2017 flush. Pictured left , at 4 months in 2013. He is DNA sire qualified with UC Davis. He is continuing to show excellent traits and development pictured right, at 3 years, meeting the older more strict Cilliers Savanna breed standards used by Australia and South Africa; see the link below.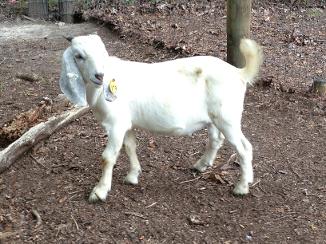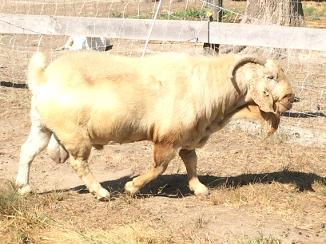 #178 "Big Jim"
He is tank conformation. "Big Jim" has added muscle to all his offspring. His kids have been the first purchased every year due to their quick growth and muscling. So, in 2016, he was the buck selected for our live cover flush and embryo transfer. 16 embryos provided 15 live kids averaging 10.3 lbs. They completely sold out on weaning day in March of 2017. He is DNA verified and duel registered with NASA and Pedigree International.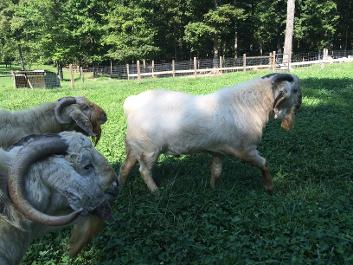 Pretty Boy Floyd
Shown here at 16 months of age. He has a nice tall stature and meaty frame with dark black pigment. We are pleased with his progress. Pretty Boy Floyd's test breeding was exceptional. He has kids on the ground, born Feb 2017. Great birthrights, conformation, and dark black pigment. He was used in an ET project in May 2017, weaned kids available Jan 2018. Quervo, 4C W1118 (Big 2), NJW Green 42 on the top and SP75 P1097 Savi, JCS #16 on the bottom of his pedigree.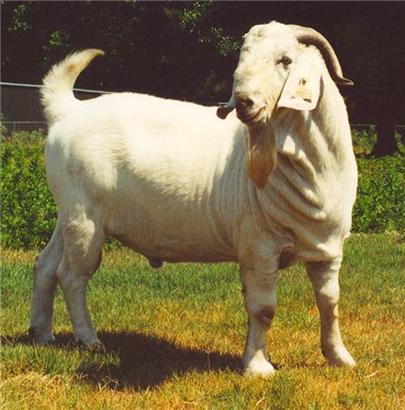 KRI 512 "Dawie"
This sire is a distinct savanna bloodline; shown at left in an early pic in NC. He was imported to Scandia, Alberta from South Africa by Keri-rose consulting as a frozen embryo. He was brought to North Carolina by Brian and Katie Payne. He became a favorite of the original savanna breeders. He is the sire of KRI Y8 and TTS Savanna 3 "Bubba".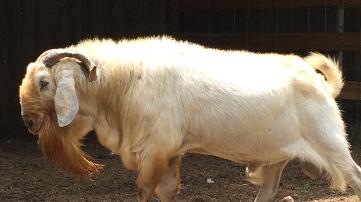 "Bubba"
This is the "Old Man" of our farm. He is a son of KRI 512 "Dawie" and doe KRI 560, a doe sired by Y8 over Y6. He has great tank/train conformation, nice roman nose, and dark black pigment. He is a favorite of everyone who visits our farm. He was also used in the May flush. Sorry, but his kids are pre-sold through 2020. These old genetics are hard to find.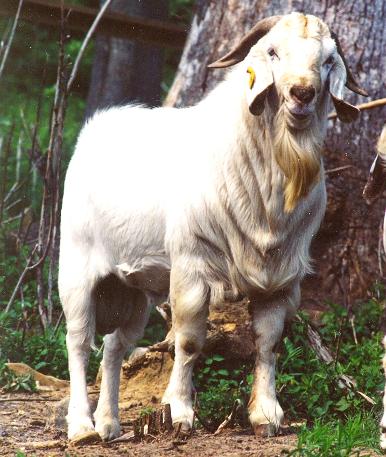 Y-8
This sire was progeny of DSU Cilliers Champion buck and Koenie Kotze's champion South African doe. Brian Payne visited S.A. and made selections. (JLK) is the farm designation for Mr. Koenie Kotze in S.A. Keri-Rose consulting imported frozen embryos directly from South Africa in 2000. Y-8 is also a son of KRI 512 (S.A. import), one of the most famous bucks known to original Savanna breeders. We get frequent inquires, we do own Y-8 semen, but it is not for sale. This is used for internal herd development.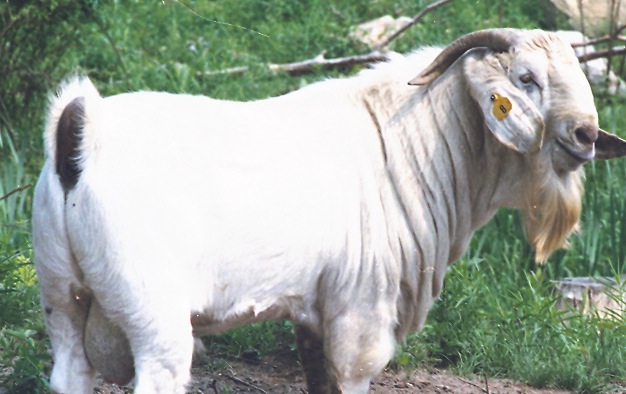 Y-8 was a top performer on forage in North Carolina, Texas, and Connecticut for years before being moved to Canada. Y8 has a large scrotum, dark black pigment, and a thick meaty frame. The Keri-Rose herds in Canada and Cayman Islands. still has progeny from Y-8, with great performance data.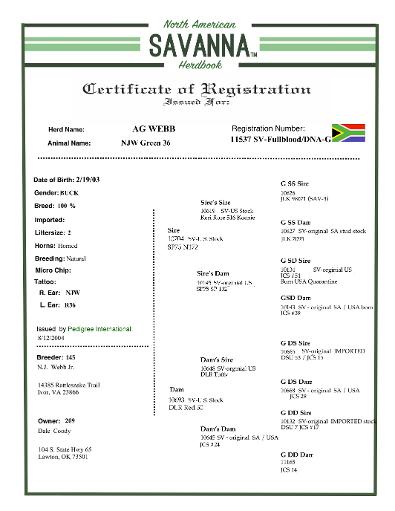 It is our goal to educate the newer breeder

about the Savanna and its history in the United States. We want you to be able to understand extended pedigrees, and keep the inbreeding coefficient low while still increasing performance. As a breeder of seed stock to existing savanna programs, our focus is to enhance and protect the breed's future. Our AI and Embryo transfer projects gives us the opportunity to be able to diversify with genetics from DSU Cilliers and Koenie Kotze's programs from South Africa. We hope to bring original bucks lines back to life for our customers. Thank you for viewing our page and considering our program's offspring

.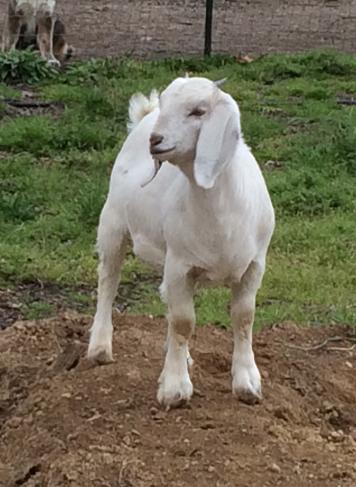 Sleepy Hollow's # 137 "Catapult's Buster"
Shown here at 2 1/2 months. His birthweight was 10.4 lbs. He has had an ADG of .65 lbs. He is out of Pansy and Catapult. His two month weight was 48.2 lbs. His 76 day wean weight was 62 lbs. Catapult is known for adding thick cannon bones.
Buster is off to Pennsylvania.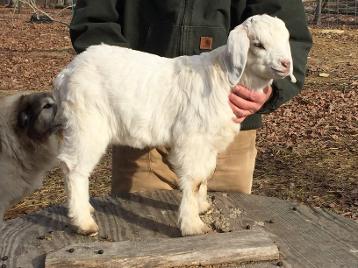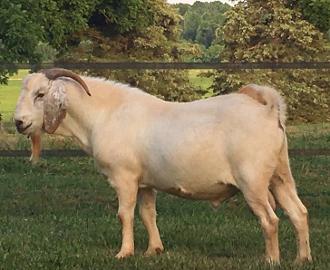 Sleepy Hollow's JCB # 113 "Hercules"
Shown upper left at 1 month. He is a son of Catapult and Penny. He was 10.2 lbs at birth with a wean weight of 52.3 lbs at 75 days (ADG .56 lbs/day). Shown right at 2 years old. Michelle Cofer of Elk Creek Savannas in Forest, Virginia reports he is developing well in a field environment, adding muscle and height to his offspring.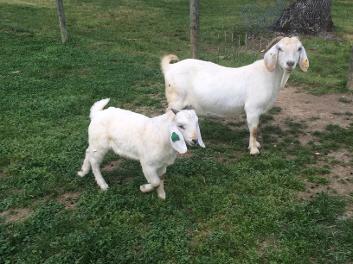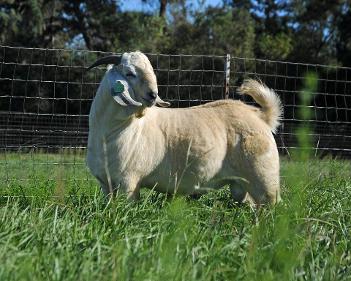 Sleepy Hollow's 175 "BabyFace Nelson"
He is a twin son of Pretty Boy Floyd and Penny. Penny has become known as the great Buck Maker. She weaned twins at 93 days with weights of 66.5 and 61.5lbs. Shown upper left at two months old walking with penny here in Virginia. The upper right pic at 8 months old at his home in Texas.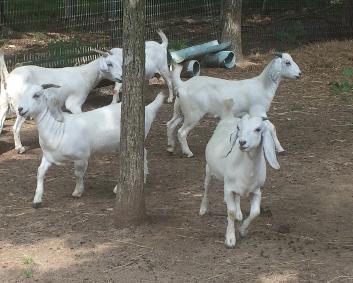 Our base does are retained based on conformation, pedigree, and their ability to survive in Virginia. We have been using original progeny bloodlines for our primary breeding, as new sources of genetics to the United States is currently illegal. JCS, WW, SP75, KRI Y8, MGF, and NJW lines from frozen semen are being developed for sale. These are the farms of the buyers of original savanna imports.
Our Savanna dams have been competing well against our Kikos on the same ration and forage. The birth weights and ADG of the kids have been impressive. A few does are pictured below. Schedule a visit anytime to see the rest of our herd.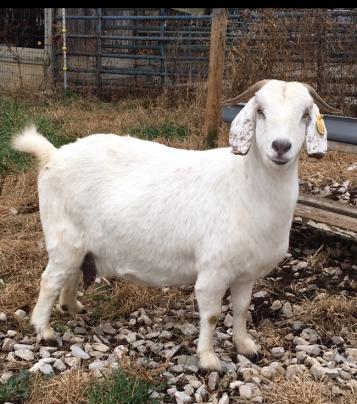 A 126
This old gal is the daughter of X414's sister. Her sire is Big 2. These older genetics are being used in our fall project 2017. We are using frozen semen from champion buck Y8 over this girl in Oct. Her name is Delilah and she has been making very nice kids for years. We expect synergistic benefits in this genetic match up. We plan to release one of these kids in a public offering in June 2018.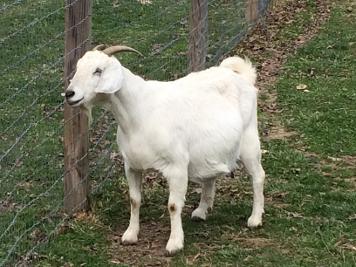 B-10
Her kids are known as pigment "fixers". She has a big chest and good height. Her kids have been top performers on our customers farms. -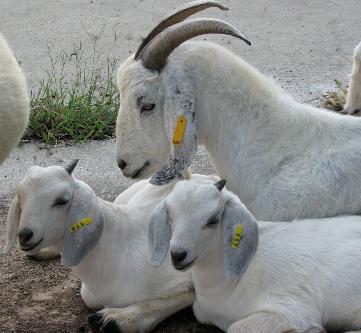 "X414"
Pictured left at 6 years old. This lady turned 9 years old in 2017. She was the offspring of Jay Heatland's flush of their best doe WW D01 in 2007. Both of WWD1's Parents were born in South Africa, imported live by Jurgen Schulz. WW farm (Tye Williamson/Boney Winkler) were original purchasers of Savannas at the Kifaru sale in 1998.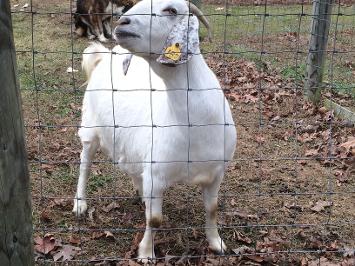 C-182 "Pansy"
Pansy is an "Iron Man" daughter. Her pedigree traces to Brian Payne's embryo import KRI S506 from the Konie Kotze' herd in South Africa.
Pansy was used in the 2016 live cover flush with "Big Jim". The offspring have been impressive. She was covered by Bubba in 2017.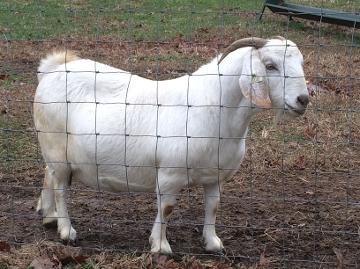 C-160 "Penny"
Penny is tank/train conformation. Her offspring have had great muscling. In 2016 she was chosen for an embryo transfer project using semen from the original savanna import progeny JCS 35. JCS35/Penny will be a new and unique blood line for United States breeders. I know what you are thinking… Yes, Penny will take your goat's lunch money.
C159 "Macy"
Macy's old line genetics has been making kids with very nice conformation. Her Dec 2016 son "Spitfire" is on the way to being an elite herdsire in the industry. Her pedigree is heavy KRI 522 Goliath on the top and 4C W118 "Big 2" on the bottom.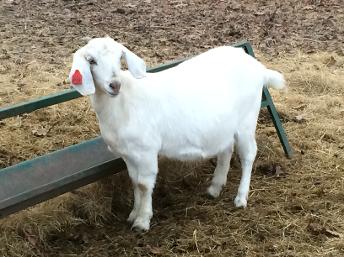 D-120 "Erin"
Erin's bloodline traces to the 2011 Maryland goat test ADG (Average daily weight gain) winner. Her sire was from the Garrett's Savanna program in Virginia. Her sire won the ADG vs. many champion Kiko breeding programs in a parasite challenge environment.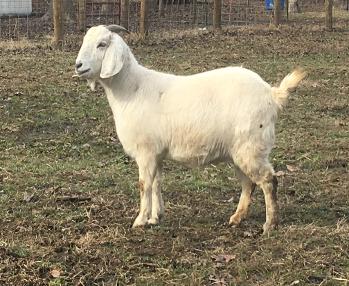 152 WW E05's "Ireland"
She is a young daughter of Champion herdsire WW E05 from Boney Winkler and Ty Williamson's (WW) original savanna program. WW E05 is the son of JCS 16 and JCS 18, which were imported as live animals from South Africa. Returning to source bloodlines will help diversity today's genetics.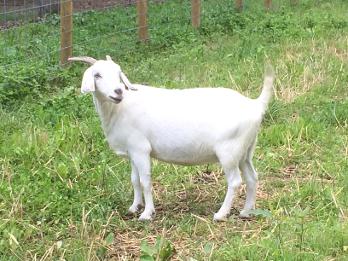 D-127
Her pedigree is like the who's who of
the sa
vanna champion herd sires. She has been our top performer with heartiness. No input, no worming, no drama at all. Multiple births each year without issue. JCS 16,
WW E05, Pete.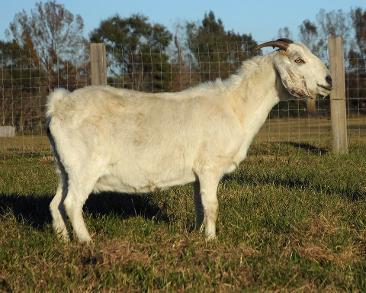 TTS 825 "Boss"
Tim and Teresa Swain (TTS) were early Savanna breeders in North Carolina. They had access to many early bloodlines and were diligent in using DNA within their program. This old gal (born in 2008) was sired by rare line, NJW Orange 16. She is a big goat with nice conformation. Her kids bring out the classic black pigment and roman nose.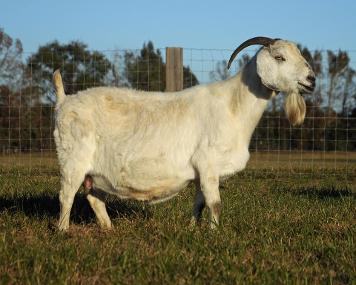 Amoreart's Rose G7119
Denise Peterson's import of Savanna embryos from South Africa in 2001, is one of only four sources of genetics here in the USA. Denise's Amore Arts Goat farm in California, with complete DNA histories, has helped preserve the SA Savanna's integrity. This old lady (born in Feb 2008) has been a top performer for almost a decade. She was a favorite of the Peterson family, as well as ours now. It's hard to find genetics this rare.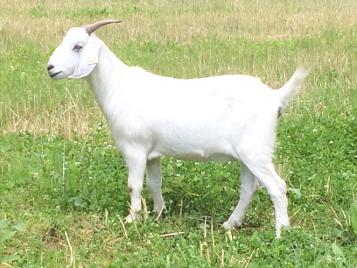 167 "Mercedes"
This young doe's DNA history verifies on the top and bottom of the pedigree to S.A. Shown here at 11 months. She has nice conformation. She was used in a breeding project with PJT Little Georgie this year, with kids expected July of 2018.
Many Savanna breeders wish they could have purchased original import stock in 1998 during the dispersion sale. Now our customers can. We are performing AI and ET flush projects several times a year with our rare semen bucks. We use Kiko and dairy goats, as recipients, for our full blood Savanna embryos. We have completed flushes using semen from the original Jurgen Schulz import progeny herdsires JCS 35 and WW E05 (Dale Coody's called WW E05 the "Cadillac" buck). We have the "Great Y-8" from the Keri-rose import covering "Penny" and "Delilah" with kids due in early 2018. Offspring from these old lines will provide our customer an exceptional Savanna for their breeding program. "Bringing old Champions back to life"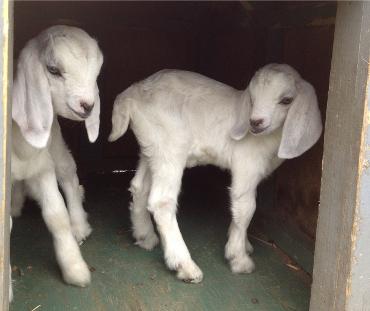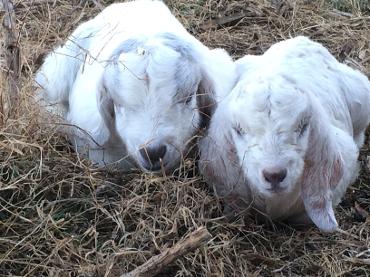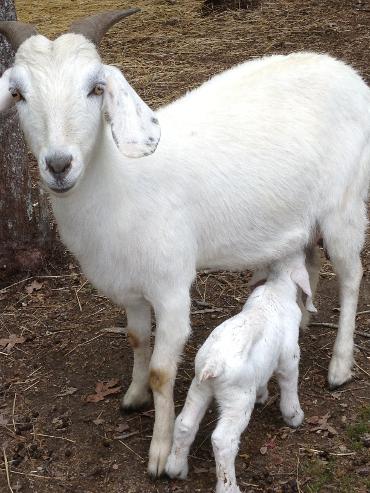 Purebred and percentage Savannas are also available. The high percentage Savanna has been very popular with our customers. A Savanna will add thickness to the Kiko, without losing its parasite tolerance. It will add heartiness and ease of kidding to the Boer, without slowing its rapid growth. We can also offer a package price of the Dam and her offspring including a Karakachan LGD pup.
As always, we offer discounts to our repeat customers.
All of our Savannas are DNA parentage qualified by UC Davis prior to registration and sale.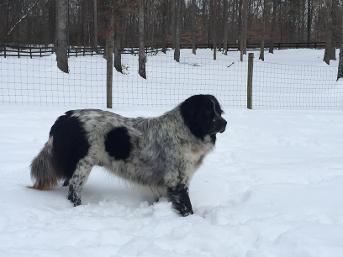 The Karakachan LGD originates from Bulgaria. This breed is similar to the Great Pyrenees but does not roam. The Karakachan accepts the flock as its territory and will viciously protect the flock from predators and theft.
Give us a call soon to examine blood lines and reserve a Savanna that fits your needs. We can also offer packages of the Dam (or Recip) with her kids prior to weaning. This will allow you first pick of the breeding cycle. (434) 531-1393 Jamie Ryan Ballif or Trevor Ballif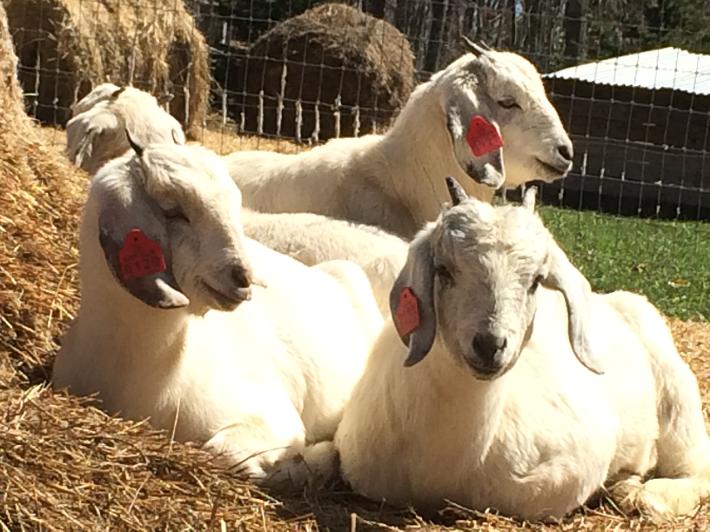 The Kotze' Savanna "form" from Swenkuil, South Africa has been the model of our breeding program.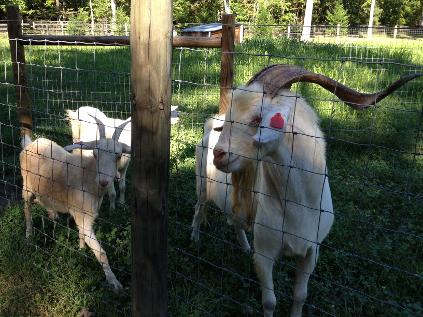 The New Zealand Kiko has

proven itself as the best meat goat with regards to hardiness, parasite resistance, and mothering skills. It is able to gain weight on mostly forage with little input from the rancher. It's only weakness to some, is its lack of size and meatiness. Kiko breeders have solved that problem with AVG Ozark Bambino aka "BAM BAM".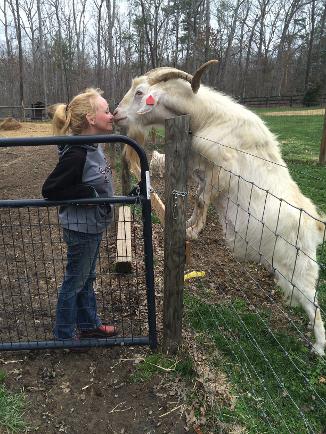 Each of BamBam's owners have been able to create a herd of large does that are hearty, parasite
resistant and need little input for quick weight gain. BamBam is described by Jared Mikell of Carson Kikos as "The biggest buck I have ever seen". He has sired >70% females providing each exceptional size. His sire is "Bullet" from Arcadia Valley Goats and dam is CGI Titan's Leia. BamBam is six years old and has never been wormed. FEC were 150 or below on quarterly checks on our farm. Our Mid-Atlantic climate creates barber pole worm concerns with many goats. Not BamBam. DNA verified with AKGA and microchipped. Double registered with NKR and AKGA.
BamBam and five 100% NZ goats were recently purchased by Dr. Michael Karch owner of Sweet Meadow Farms LLC. He plans to use BamBam to add more size to his herd. Sweet Meadow farm is located in beautiful Middle Brook, Virginia. We would like to also congratulate David Kirkton on his purchase of 4 Kikos for his Wilmington, North Carolina farm. After these purchases we have sold the remaining of our NZ Kikos and just have purebred and commercial Kikos. Thank you all again.